Best Quality Automatic Mapping Drilling Borehole Water Detector S150 can test the depth 0m-150 meter
stars, based on
( 0 )
reviews
Overview
Quick Details
Place of Origin:

Hunan, China
Brand Name:

PQWT
Model Number:

PQWT-S150
Product name:

PQWT-S series 150m detection of underground water
Measuring Depth:

150m detection of underground water
Instrument Automatic Conversion Range:

0mV-2000mV
Measurement Accuracy:

0.1mV
Measuring Frequency:

Triple Band, Multiple Frequency
LCD Size:

7inch touch screen
A/D Conversion:

12-bit 1Msps
Input Impedance:

ge 10MΩ
Power Supply:

DC12V 2300mAh Built-in Battery
Offical Website:

www.pqwtcs.com jane(at)pqwtcs.com
Product Certification
Verified
CE Certified.

Valid from 2017-06-06 until 2022-05-06
Packaging & Delivery
Selling Units:

Single item
Single package size:

40X20X46 cm
Single gross weight:

9.0 kg
Package Type:

PQWT-S series 150m detection of underground water packing: Alumium Specialized Box + Export Standard Carton
Picture Example:
Lead Time :

| | | | |
| --- | --- | --- | --- |
| Quantity(Set) | 1 - 2 | 3 - 5 | >5 |
| Est. Time(days) | 5 | 7 | To be negotiated |
Video Description
ries 150m detection of underground water
1. Be suitable for the plain, hill, mountain land, highland, basin all kinds of geologic structure application;
2. Automatic mapping in the instrument, get drilling position and depth result at site.
3. Professional user group offers 24 hours after sale service.
4. The average accuracy of more than 90% from user's feedback.
5. Four languages including English/Spanish/French/Arabic are optional.
6. It is widely used for drinking water, agricultural irrigation water detection.
7. Non-professionals can learn the operation way in 5 minutes.
8. only 1-2 people can operate.
9. Two years warranty.

Introduction to Instrument

PQWT-S150. 150m detection of underground water
The Instrument called as (Natural Electric Field Frequency Selection System) geophysical instrument, shortly known as frequency system.
Instrument working on the principle of the electrical difference of natural earth magnetic field, the several different frequencies of electromagnetic field changes is the law to study the underground field material changes to solve the Geological problems.
The measurement data is Self-potential, and the unit is millivolt.
Full automatic mapping water finder deep portable measuring instruments water detector

Main Features
1. High Speed and High Efficiency
Complete more than8000 meters profile measurement in one day to realize geological abnormality in different depth, the prospecting speed and efficiency are improved about 10 times more than traditional resistivity method.
2. Easy to Carry
Without the heavy power supply, it uses low-frequency signals in earth natural electric field as the signal source, and the complete set weight is less than 2kg so easy to carry
3. Simple Operation
Equipment is automatically controlled by the micro PC. You can learn its operation in 10 minutes.
It will take 0.5h for persons without prospecting experience to finish training.
4. Good Accuracy, High Accuracy
The resolution of the measurement is up to 0.001mV, and precision is ±2%.
It gains high stability and abnormity curves matching with that of traditional geo-electrical equipment in lots of field survey.
5. Anti-interference Ability
It has advanced anti-jamming technology and multiple anti-jamming designs. You can observe abnormity curves

result with good repetition even in the weak signal area, city, high electric jamming area

and working area with other exterior interference via frequency selector and digital processing.
6.A key to mapping
The detector is fully automatic form mapping after sampling data no need the computer drawing mapping

Technical Parameters
Model No.

Depth

Accuracy

Channel

Frequency

LCD

PS

Other

PQWT-S150

150 meter

0.001mv

4

Single,

Triple

36 Frequency

Industrial 7-inch HD touchscreen

DC12V 4000mAh
Built-in Battery
1.Automatic noise reduction,
super anti-jamming.
2.User-friendly interactive
interface, high-speed CPU
control, the menu prompts.
3.Automatic measurement,s
storage of data, drawing curves.
4. The data will be saved
automatically after the shutdown
5.It can store 999 single band,
tri-band and multi-frequency
measurement data.
6. The data could be imported
into the computer directly for
Charting.
7.Using rechargeable batteries,
Electrode detection, power
monitoring function.



PQWT-S300

150meter

300 meter

0.001mv

6

Single,

Triple,

40 Frequency

Industrial 7-inch HD touchscreen

DC12V

4000mAh
Built-in Battery

PQWT-S500

150meter

300 meter

500 meter

0.001mv

8

Single, Triple,

56 Frequency

Industrial 7-inch HD touchscreen

DC12V 4000mAh
Built-in Battery


Product Picture
About us
Hunan Puqi Geologic Exploration Equipment Institute is a professional institution in China who engaged in the R & D, manufacturing and sales of pipe water leak detector, leakage automatic analyzer, geophysical prospecting underground water detector, cavity detector, mine locator, dam piping detector, Borehole inspection camera.
www.pqwtcs.com
www.pqwtdetector.com
Canton Fair Show
Packing





1set/Aluminum box into Carton

Packing Size (LxWxH): 39x20x19cm

G.W: 8.5KG

Shipping

Shipping way: DHL/ UPS / FedEx / EMS

Shipping time:3-7 Days by Air.
3-7 Days by Express.
20-60 Days by Ship.

Payment Method

T/T, L/C, Western Union, PayPal
PQWT-S series 150m detection of underground water

Is it difficult to operate and make the graph?

The instrument is easy to operate, you can find the share how-to video on Youtube, please email me. (URL: http://pqwtcs.com/NewsDetail.aspx?nid=3650&classid=279) ,
and we will send you the detailed operation manual via email.
The detector directly mapping with one button, no need computer drawing mapping.
The professional geologist gives the suggestions and 24hours online.


Guide for After-sale Service

> 2-year guarantee-if using of the product is influenced due to the quality problem, you may receive the guarantee of the product at the service network within 2 year after the date of purchase;

> Lifetime maintenance-lifetime maintenance service is implemented on all factory series products. We offer maintenance of machine which surpasses the maintenance period or has manual damage with material and lab

| | | | |
| --- | --- | --- | --- |
| Business Type | Manufacturer, Trading Company | Country / Region | |
| Main Products | | Ownership | |
| Total Employees | | Total Annual Revenue | |
| Year Established | | Certifications(2) | |
| Product Certifications(6) | | Patents(3) | |
| Trademarks(1) | | Main Markets | |
PRODUCT CAPACITY
Factory Information
| | |
| --- | --- |
| | Below 1,000 square meters |
| | Room 301, Building A16, Jiahai Industrial Park, No. 1318, Zhongqing Road, Kaifu District, Changsha City, Hunan Province, China |
| | |
| | OEM Service OfferedDesign Service OfferedBuyer Label Offered |
| | US$50 Million - US$100 Million |
Annual Production Capacity
| Product Name | Production Line Capacity | Actual Units Produced(Previous Year) | Verified |
| --- | --- | --- | --- |
| | | | |
| --- | --- | --- | --- |
| Measurement & Analysis Instruments(Water detector, Pipeline leak detector, Cavity detector, Mining locator, Pipeline detector, Automatic water leak analyzer) | 4,300 Sets/Months | 40,000 Sets | |
View More Product Capacity
QUALITY CONTROL
Test Equipment
| Machine Name | Brand & Model NO | Quantity | Verified |
| --- | --- | --- | --- |
| | | | |
| --- | --- | --- | --- |
| DDS Function waveform generator | ATF20B | 5 | |
| Digital storage oscilloscope | UTD2052CL | 4 | |
R&D CAPACITY
Production Certification
| Picture | Certification Name | Certified By | Business Scope | Available Date | Verified |
| --- | --- | --- | --- | --- | --- |
| | | | | | |
| --- | --- | --- | --- | --- | --- |
| | CE | Other | | 2017-06-06 ~ 2022-06-05 | |
| | CE | ISET s.r.l | The CE certificate applies to all European countries. The products meet the safety standard. | 2017-06-06 ~ 2022-05-06 | |
| | Test Report | Other | Leak detector & PQWT-CL | 2018-09-26 ~ 2049-12-31 | |
| | Test Report | Other | Pressure pipe leak automatic analyzer & PQWT -CL900 | 2018-10-25 ~ 2049-12-31 | |
| | Test Report | Other | Multi-function water detector & PQWT-TC | 2018-10-25 ~ 2049-12-31 | |
| | Test Report | Other | Water detector & PQWT-TC | 2018-10-25 ~ 2049-12-31 | |
| | Inspection Report | China Electronic Product Relibility and Environmental Testing Research Institute | Geophysical Exploration Instrument | 2015-08-31 ~ 2018-04-01 | |
| | Inspection Report | China Electronic Product Relibility and Environmental Testing Research Institute | Pipe Leak Detector | 2015-08-31 ~ 2018-04-01 | |
Certification
| Picture | Certification Name | Certified By | Business Scope | Available Date | Verified |
| --- | --- | --- | --- | --- | --- |
| | | | | | |
| --- | --- | --- | --- | --- | --- |
| | Other | Other | Development, production, sales of professional instruments for geological exploration, and intellectual property management related to procurement of the above processes | 2018-04-10 ~ 2021-04-09 | |
| | ISO9001 | Other | Production of Geologic Exploration Special Equipment | 2018-08-20 ~ 2021-08-16 | |
| | ISO9001 | Shanghai Ingeer Certification Assessment Services Co., Ltd | Production of Geologic Exploration Special Equipment | 2018-08-20 ~ 2021-08-16 | |
Trademarks
| Picture | Trademark No | Trademark Name | Trademark Category | Available Date | Verified |
| --- | --- | --- | --- | --- | --- |
| | | | | | |
| --- | --- | --- | --- | --- | --- |
| | 16798700 | PQWT | Tools & Hardware>>Test Instruments>>Electronic Measuring Instruments>>Industrial Metal Detectors | 2016-06-14 ~ 2026-06-13 | |
Patents
| Picture | Patent No | Patent Name | Patent Type | Available Date | Verified |
| --- | --- | --- | --- | --- | --- |
| | | | | | |
| --- | --- | --- | --- | --- | --- |
| | ZL 2013 2 0015749.4 | Leak Detector | UTILITY_MODEL | 2013-01-14 ~ 2023-01-14 | |
| | ZL 2012 2 0628625.9 | Metal Detector | UTILITY_MODEL | 2012-11-26 ~ | |
| | ZL 2012 2 0628689.9 | Metal Detector | UTILITY_MODEL | 2012-11-26 ~ 2022-11-26 | |
| | ZL 2015 3 0013279.2 | Multifunctional Geophysical Prospecting Instrument | APPEARANCE_DESIGN | 2015-01-16 ~ | |
| | ZL 2012 3 0519707.5 | Metal Detector | APPEARANCE_DESIGN | 2012-10-29 ~ | |
| | ZL 2012 3 0534983.9 | Metal Detector(2) | APPEARANCE_DESIGN | 2012-11-06 ~ | |
| | ZL 2015 2 0031345.3 | High Precision Geophysical Prospecting Instrument | UTILITY_MODEL | 2015-01-16 ~ | |
| | ZL 2013 2 0264361.8 | Natural Electric Field Exploration Instrument | UTILITY_MODEL | 2013-05-15 ~ | |
| | ZL 2013 3 0001755.X | Leak Detector | APPEARANCE_DESIGN | 2013-01-05 ~ | |
Awards Certification
| Picture | Name | Issued By | Start Date | Description | Verified |
| --- | --- | --- | --- | --- | --- |
| | | | | | |
| --- | --- | --- | --- | --- | --- |
| | Manufacturing Excellence & Innovation Awards Selected Award | Made-In-China.com | 2017-12-01 | The "Underground water detector Automatic Mapping" was selected award and innovative product by Manufacturing Excellence & Innovation Awards Selected Award. | |
TRADE CAPABILITIES
Trade Shows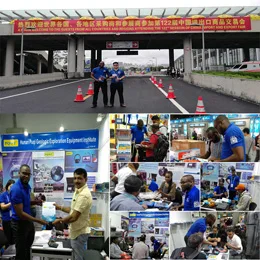 1 Pics
2017.10
Main Markets & Product(s)
| Main Markets | Total Revenue(%) | Main Product(s) | Verified |
| --- | --- | --- | --- |
| | | | |
| --- | --- | --- | --- |
| Domestic Market | 34.00% | Measurement & Analysis Instruments(Water detector, Pipeline leak detector, Cavity detector, Mining locator, Pipeline detector, Automatic water leak analyzer) | |
| Africa | 15.00% | Measurement & Analysis Instruments(Water detector, Pipeline leak detector, Cavity detector, Mining locator, Pipeline detector, Automatic water leak analyzer) | |
| South America | 10.00% | Measurement & Analysis Instruments(Water detector, Pipeline leak detector, Cavity detector, Mining locator, Pipeline detector, Automatic water leak analyzer) | |
| Southeast Asia | 10.00% | Measurement & Analysis Instruments(Water detector, Pipeline leak detector, Cavity detector, Mining locator, Pipeline detector, Automatic water leak analyzer) | |
| South Asia | 10.00% | Measurement & Analysis Instruments(Water detector, Pipeline leak detector, Cavity detector, Mining locator, Pipeline detector, Automatic water leak analyzer) | |
| North America | 5.00% | Measurement & Analysis Instruments(Water detector, Pipeline leak detector, Cavity detector, Mining locator, Pipeline detector, Automatic water leak analyzer) | |
| Mid East | 5.00% | Measurement & Analysis Instruments(Water detector, Pipeline leak detector, Cavity detector, Mining locator, Pipeline detector, Automatic water leak analyzer) | |
| Eastern Europe | 2.00% | Measurement & Analysis Instruments(Water detector, Pipeline leak detector, Cavity detector, Mining locator, Pipeline detector, Automatic water leak analyzer) | |
| Western Europe | 2.00% | Measurement & Analysis Instruments(Water detector, Pipeline leak detector, Cavity detector, Mining locator, Pipeline detector, Automatic water leak analyzer) | |
| Central America | 2.00% | Measurement & Analysis Instruments(Water detector, Pipeline leak detector, Cavity detector, Mining locator, Pipeline detector, Automatic water leak analyzer) | |
| Southern Europe | 2.00% | Measurement & Analysis Instruments(Water detector, Pipeline leak detector, Cavity detector, Mining locator, Pipeline detector, Automatic water leak analyzer) | |
| Oceania | 1.00% | Measurement & Analysis Instruments(Water detector, Pipeline leak detector, Cavity detector, Mining locator, Pipeline detector, Automatic water leak analyzer) | |
| Eastern Asia | 1.00% | Measurement & Analysis Instruments(Water detector, Pipeline leak detector, Cavity detector, Mining locator, Pipeline detector, Automatic water leak analyzer) | |
| Northern Europe | 1.00% | Measurement & Analysis Instruments(Water detector, Pipeline leak detector, Cavity detector, Mining locator, Pipeline detector, Automatic water leak analyzer) | |
Trade Ability
| | |
| --- | --- |
| Language Spoken | English |
| No. of Employees in Trade Department | 6-10 People |
| Average Lead Time | 3 |
| Export License Registration NO | 4300329519166 |
| Total Annual Revenue | confidential |
| Total Export Revenue | confidential |
Business Terms
| | |
| --- | --- |
| Accepted Delivery Terms | FOB, CFR, CIF, EXW, FAS, CIP, FCA, DDP, Express Delivery |
| Accepted Payment Currency | USD, EUR, JPY, AUD, HKD, CNY |
| Accepted Payment Type | T/T, L/C, MoneyGram, Credit Card, PayPal, Western Union, Cash, Escrow |
| Nearest Port | Changsha, Shenzhen, Shanghai |
View More Trade Capabilities
Factory inspection reports By

Bureau Veritas
Main Product Lines Verification Report
PQWT-S150 underground water detector: